The Goods.
It's Our Yamara Sales Pitch Page.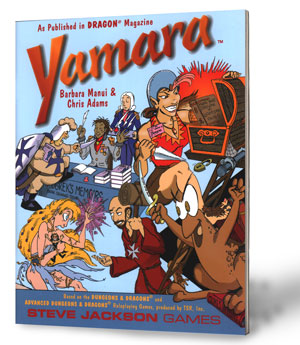 YAMARA™
by Barbara Manui & Chris Adams

The Official Collection.
Collecting the first five years of the crazy, classic strip from Dragon magazine. But even if you had every issue of Dragon, you still wouldn't have all of Yamara without the pages & pages of all-original material contained herein. Interviews with the characters, family trees, and even dire, albeit absurd, predictions of the future. The only authorized edition– as originally published by Steve Jackson Games.
Signed by the authors.
Order from Amazon.com
Order it online at Amazon– no guarantees they'll be signed, though we try to send 'em to Amazon that way!
Review some of the bonus material from the book, here online:
The Map of Wyhtl
  (...the world
   Where Yamara Has To Live.)

The Wyhtl Timeline
  World History At A Glance.
Updated 2005.04.02
---
All Contents Copyright © 1997-2005 Manui & Adams.
YAMARA™ and all characters and likenesses are trademarks of Aetherco. World rights reserved.