Latest Release




NªRCISSIST
pre-release 0.7
(2000)


Efforts are underway to bring a downloadable version of new NªRCISSIST pre-release online.



NªRCISSIST:™ Crash Free is the roleplaying game of alternating histories– Players take the roles of crashers, people who have discovered the means to traverse the multiverse, tweaking timelines and triggering gates in pursuit of their best destinies.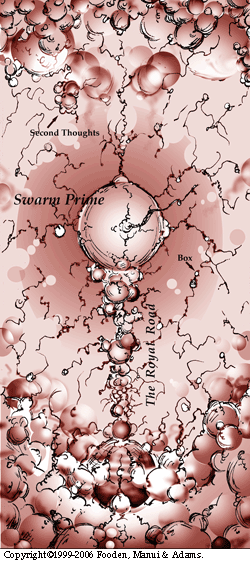 NªRCISSIST is the long-awaited sequel roleplaying game to CºNTINUUM.

Appearing only briefly as a pre-release in 1999 and 2000, the game was originally envisioned as a way of playing the opponents of the Continuum, weaker and more vulnerable at first, but with the chance to escape the Continuum's "clutches" and see other worlds.

But in many playtests extending over the last six years, NªRCISSIST itself has changed and evolved into a game of exploration, of success and loss, and of transdimensional intrigue. A new, completely revised downloadable edition of a NªRCISSIST pre-release, based on a decade of notes, is planned.

Barring any unforseen changes, that is.


NARCISSIST at BoardGameGeek
Since AD 2010.

NªRCISSIST's page at BoardGameGeek awaits with reviews and ratings.